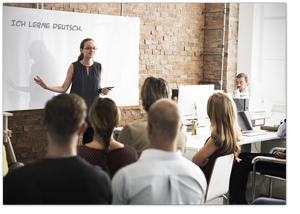 German Courses in Brisbane

Very social, very effective!
With a maximum of 11 or 13 students (on average below 8) this class provides a good balance between the benefits of group classes and 1on1 tuition.
Our Group Courses are mostly held at our classroom in Woolloongabba by one of our super teachers. Course books will be handed out to you at your first class, all you need to bring is a pen and paper for notes.


We offer several types of Group Courses/Classes/Events:
- Classic Course: 11 or 12 weeks, 1.5 hours each week, all levels - $277.2 per level
- Accelerated Course: 7 weeks, 2.5 hours each week, levels 1-4 - $277.2 per level
- Online Course: 11 or 12weeks, 1.5 hours each week, all levels - $257.4 per level
- Book Club: for advanced learners, held in German, meets every 2 months - FREE - click here
Check out our upcoming German Courses Which level suits you?